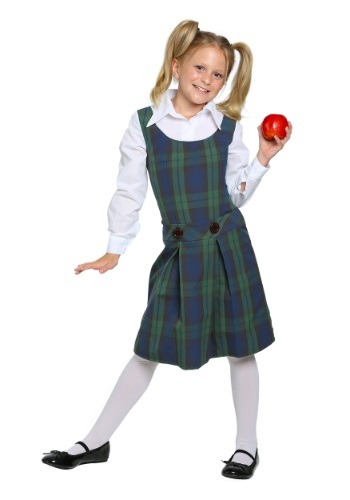 Child School Girl Costume by HalloweenCostumes.com
A certified way to become the teacher's pet!Even though it was a long time ago, we can still remember what it was like to be in elementary school. There's all those other students in class competing to become the teacher's favorite pupil, and we know that can be a little stressful, (okay, a lot stressful). All the other kids are bringing the teacher goodies, paying her compliments, and listening intently to her lesson plans, so how does a great student like you stand out among all the other shining pupils? The answer to that question doesn't require a lot of studying, thankfully! If you dress for success, you'll surely skyrocket to the top of the class and ultimately become the teacher's all-time favorite student. You'll be getting straight As before you know it, just show up to class (before the bell rings, of course) wearing this school girl costume and you'll soon be the teacher's star student.This school girl costume for children is perfect for little girls who love going to school and learning. They'll feel pretty and studious when they wear this preppy ensemble. The classically cute plaid jumper features some pleats and buttons at the waist. The attached white button-up collared shirt will give your little girl a layered look that she'll love showing off to her fellow students. She's bound to become the teacher's pet very soon. Just top the whole ensemble off with some white tights and Mary Jane flats and your daughter will ace her costumed look!
Price: $
34.99
Condition:
new
Thank you for browsing our selection of Child Halloween Costumes.