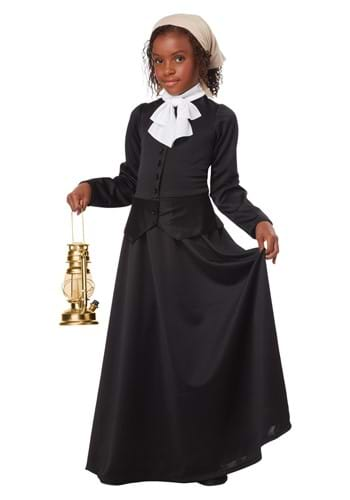 Girl's Harriet Tubman Costume by HalloweenCostumes.com
Make absolutely sure that your gal understands the importance of paying attention in history class. If she doesn't she might miss out all kinds of really cool information, like how powerful a lady Harriet Tubman was! It's a good thing she is ahead of the curve on this one; she is actually an all-out history buff! She spends every family dinner quizzing her siblings on significant historical facts. Where other kids have their walls covered in posters of bands and teen idols, she has hung historical maps of the United States and framed pictures of her favorite formative figures. So she knows all about how important Harriet Tubman was; we don't even have to tell her! She is a true American hero, and now your gal can show off her passion for history and try to emulate the bravery and integrity of her favorite American in this Girl's Harriet Tubman Costume. She can feel like top of the class and a true class act in this period-specific, black button-up peplum dress. The collar calls back the bygone days of Tubman's heroism. As a bonus, she can wear it with the ruffled collar, head scarf, and without cuffs for Harriet Tubman, and then wear it AGAIN with the eyelet collar, cameo, and eyelet cuffs to transform into Susan B. Anthony. It's perfect for a historically-focused Halloween costume or a school play. Lantern (and historical prowess) sold separately.
Price: $
29.99
Condition:
new
Thank you for browsing our selection of Child Halloween Costumes.